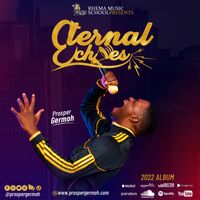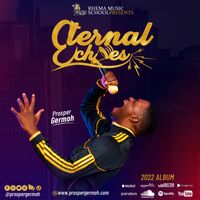 Kadosh is an irresistible sound from Heaven that is an outpouring from a heart that has been at the place of waiting for eleven whole months now and this is just one of the songs from the album, "Eternal Echoes" an album that is inspired by the word of Prophecy for this year, "The Gathering Clouds

"Kadosh" is an Hebrew word that means "Holy" and I use it to describe my Lord Jesus Christ who is worthy of all my worship. You can find the Word, "Kadosh" in the Book of Revelation 4:8 and Isaiah 6:3

There is more to this song that words can not explain to the fullest.

Just after my nomination at The African Entertainment Awards USA
alongside big African song ministers like Sinach, Mercy Chinwo, Nathaniel Bassey, Frank Edwards, Ada Ehi, Deborah Lukalu, Tim Godfrey, Joe Mettle and Benjamin Dube, I started praying to God thanking Him for the great step and how far He has carried me and I also ask Him to give me songs that will lead billions around the world to worship Him for who He truly is and immediately, He dropped the album title, "Eternal Echoes" in my spirit. As I prayed further, the songs started budding out. Kadosh is just one of these songs in this album and so there is more that will introduce this new era and lead this generation into true worship to Jesus Christ the King.

Talking about "Kadosh '', I received it in a vision around 5AM singing in a big program and had angels backing me up in that program and uncommon things were happening as the song was going on. I got both the full lyrics of the song and its melody. Jesus is Holy ,He is faithful and just.
Lyrics
And I Beheld The Angels
And The Elders
Lifting up their voices
And casting down their crowns
They were singing
To The Lamb that sits upon The throne
They were shouting
Kadosh Kadosh Kadosh
Holy Is The Lamb that sits upon The Throne

Kadosh Kadosh Kadosh
Kadosh Yeshua

I lift my voice
To worship The King
I raise my hands
To worship The King
I join The Angels
To worship The King
And we cast Our crowns
To worship The King

Kadosh Kadosh Kadosh
Kadosh Yeshua
Holy Is The Lamb of God
That sits upon The Throne
Kadosh
Kadosh Yeshua
Eh

(Holy ghost Chant)

(I lift my voice to worship)

I lift my voice
To worship The King

(We raise our hands to you now)

We raise our hands
To worship The King

(Yes, We join The Angels)

We join The Angels
To worship The King

(Casting down, Casting down our crowns to You)

We cast Our crowns
To worship The King

(Jesus)

(HolyGhost Chant)

(With a loud voice)

Kadosh Kadosh Kadosh
Kadosh Yeshua
Kadosh Kadosh Kadosh
Kadosh Yeshua

(Holy)

Holy Holy Holy
Holy Is The Lamb
Holy Holy Holy
Holy Is The Lamb

(HolyGost Chant)